On Wednesday 16 March 2016 the Chancellor George Osborne presented to Parliament his eighth Budget, his second following the election of a Conservative majority government in May 2015, together with the Office for Budget Responsibility's latest five-year forecasts for the economy and the public finances and an assessment of the Government's progress against its fiscal and welfare spending targets.
Since the November '15 forecast, four months ago, economic developments have been disappointing with the outlook for productivity growth and public finances looking much weaker, making the OBR's view of UK economic performance more pessimistic than before.
The most significant change is the OBR's judgement over potential productivity growth. This combined with historic data and a weaker global outlook means that the cash size of the UK economy is about 3% smaller at the end of their forecast than originally predicted.
The net effect is for the OBR's underlying forecast for public sector net borrowing to be around £11 billion a year worse on average over the next five years, which would have turned the £10 billion projected surplus of 2019-20 to a £3 billion deficit, extending 'austerity' by at least one year into the life of the next Parliament.
Economic growth slowed in 2015, the slowest annual growth since 2012, while remaining convincingly within historic norms at 2.2%, down from 2.9% last year, 2014, while once again underpinned by further increasing consumer spending.
Previous years' GPD growth
2010: 1.5%

2011: 2.0%

2012: 1.2%

2013:
2.2%

2014: 2.9%

2015: 2.2%
Growth since the Crash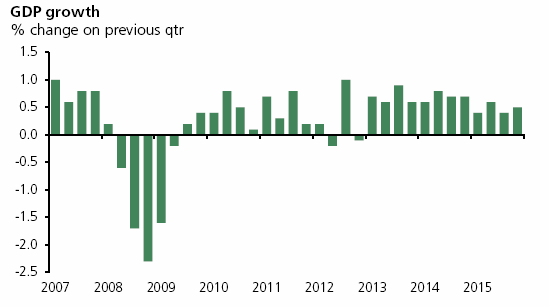 In February '16, the Organisation for Economic Co-operation and Development (OECD) lowered their GDP growth forecasts for most of the world's largest economies.
UK growth for 2016 was lowered to 2.1% and this is still forecast to be the highest in the G7, but only just.
Modest economic growth combined with the continuing strong growth in the number of people in UK employment means that the productivity statistic fell sharply in the last quarter.
Stagnating productivity growth
The pick-up in actual productivity growth in mid-last year seems now to have been a false dawn of the UK's trend productivity growth returning to pre-crisis levels (historically about 2%).
UK productivity was (in 2014) 18% below the average of the rest of the 'G7 countries', the widest gap since at least 1991.

Public finances
Although on course to breach the supplementary target to have debt falling as a share of GDP this year and beyond, and failing to hold spending on social security below a level capped July 2015, the OBR judges that the Government should (just) meet its 'fiscal mandate' of a budget surplus in 2019/20.
Notably this is by various 'accounting' and other measures: decreasing departmental spending; delaying measures for quarterly corporation tax payments; and controversially, reducing welfare spending, largely through tightening the disability benefits system by £1.3 billion annually.
Still Mr Osborne has only just a 50:50 chance of fulfilling this plan to deliver an annual surplus by the end of this Parliament, according to the director of the Institute for Fiscal Studies (IFS).
Stock of debt and annual borrowing
The Office for Budget Responsibility (OBR) published its forecasts for the public finances alongside the 2016 Budget :
Growth Forecast
Outlook for economic growth: this looks 'materially weaker' than the OBR and others had expected last November.
The Office for Budget Responsibility's latest five-year forecasts
They have revised real GDP growth down from an average of 2.4 per cent a year to 2.0 per cent for 2016. The main reason is data published by the Office for National Statistics (ONS).
In November the OBR expected near term strong growth in consumer spending owing to rising inflation-adjusted household incomes. In part because of recent wage growth and partly through historically low inflation, at near zero.
Inflation 'near zero' - core inflation higher
At 0.3% in February and unchanged it has been below Bank of England target for 26 months in a row
But annual growth in average earnings, which over the longer term should track the growth of productivity, has also weakened sharply, dropping from near 3% in the first half of 2015, slowing towards the end of the year back down to just below 2%.
However, the UK's labour market continues to perform with increasing numbers employed (74.1%: 31.42 million people), the employment rate is again at an historic high and the unemployment rate (at 5.1%) back to the pre-downturn average. The OBR report that the easing of real wage growth may in part reflect 'rising job flows into low-skilled occupations'.
Lower productivity growth means lower GDP growth, which then accompanies lower growth forecasts for labour income, profit growth, consumer spending and business investment. This, the OBR argues, leads in aggregate, to significantly reducing tax receipts; the OBR's rational for its changed view and judgement on the fiscal outlook.

Interest rates
Long-term real interest rates in the United Kingdom have declined significantly over the past 35 years (Chart A). The Bank of England believes that there is evidence that some of that decline has been driven by global trends such as changing demographic and savings patterns.
Long term rates declining
Interest rate outlook lower than last autumn
Even so, with the lower expectations for productivity and GDP growth, expectation of increasing interest rates have weakened.
Interest rate markets are suggesting that the Bank of England is not expected to raise interest rates until 2019 (a full decade after Bank Rate was initially cut to 0.5 per cent) and even that possibly a cut in rates is more likely that not in the near term.
Anthony Denny
March 2016